If you are going to watch a film about Oliver Twist, this beautiful black and white 1948 re-telling of the Charles Dicken's story by David Lean is the one to watch.
The story follows the well-known, beautiful tale of sweet Oliver Twist, played by John Howard Davies, who is an orphan boy born in the workhouse that his mother stumbled into before she dies after giving birth to him.  Years later, after drawing the short straw and asking for seconds of gruel at dinner time (the legendary line, "Please, Sir, can I have some more?"), Oliver Twist is sold to work with a coffin maker and undertaker before escaping and running away on a 7 day journey to London.  London is where he bumps into The Artful Dodger and gets swept into a life of pick-pocketing with a group of other orphan boys in order to keep a roof over his head with the old man Fagin who leads the group.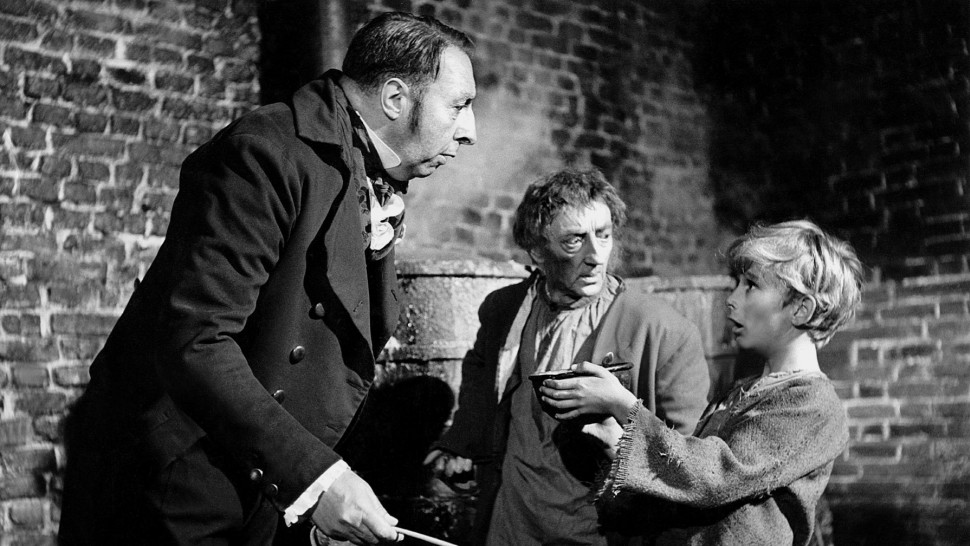 Prior to seeing Oliver Twist, I'd only seen Carol Reed's 1968 version Oliver!.  That version is a musical and is the one that immediately comes to most people's mind when you think of on-screen Oliver Twist.  I'm very pleased to have discovered this older version as it's interesting and refreshing to see such a superb production of the story as it was supposed to be seen without the singing and dancing.  Oliver Twist is perfect if you aren't keen on musicals and David Lean's film is the best way to see it.
Having the correct lightining is critical to black and white films and an art form in its own right.  There's something really special and magical about the lighting throughout Oliver Twist, indoors and outdoors (on an indoor set) with candles, lamps, carefully positioned shadows and even the lightening in the first stormy scene.  It makes the film stand out on the screen and gives beautiful, dramatic shots to set the scenes in this motion picture and let's David Lean's top directing skills shine through.  I am excited to see what else he has to offer in his first Charles Dicken's retelling of Great Expectations which was made few years prior to Oliver Twist.
Oliver Twist has a 100% rating on rotten tomatoes compared to the various remakes which are not so well received but still highly rated in relation to other similar films.  This one is basically perfect.  Lean has created a truely wonderful film that I can't fault.  This 1948 version is a must see for fans of the story or classic literary tales.
The story is an emotional rollercoaster but a memorable experience told in a wonderful visual way.  There are happy moments and sad moments and you only want the best for lovely young Oliver.  It gets top marks from me and the only visual telling of this classic which still makes an impression today.  It is entirely deserving of being one of the top British films of all time.
Oliver Twist is available on Amazon Prime for your enlightenment if you haven't seen this film before or wish to see it again, which you should.  It is a truely stunning translation of the literary classic which no other version has matched up to yet.
All my love and films,
Jen xxx